Nano Silver Household Disinfectant For Indoor Disinfection
Product Detail
Feedback now
Nano Silver Household Disinfectant For Indoor Disinfection




A good disinfectant cleaner is must-have in any collection of home cleaning products. Cleaning with disinfectants throughout your home is essential to eliminating germs and reducing your family's exposure to illness. It is designed to provide germ protection and can kill 99.999% of bacteria, viruses, mold, fungi, mildew, and algae.
It can be sprayed, mopped, or sponged, and allowed to air dry, so there is no risk of spreading microorganisms to other surfaces.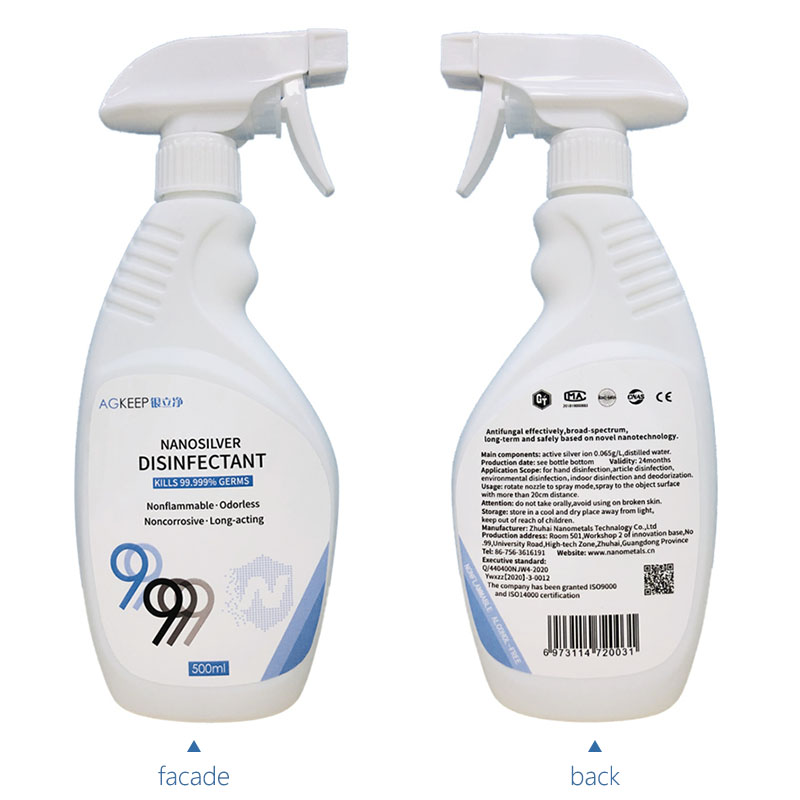 Nano Silver Household Disinfectant For Indoor Disinfection

Appearance

Light yellow transparent gel

Solid content(Ag)

65ppm

Nano silver particle size

≤30nm

Density

around 1.01g/cm 3

Silver purity

99.990%

Disinfection rate

99.999%

Application method

Pump Bottle Foaming

Storage condition

Store at 0-30 Degrees in a dark, dry and cool place.

Shelf time

12 months

Package

30mL, 50mL portable pack;

300mL for family pack

Applications

Hand disinfection

Advantage

● Alcohol-free




● non flammable




● Ready to use




● No added fragrance




● Reduces bacteria on the hands




● Safe for children & adults

Certificates

SGS

Disinfectant, Sanitizer, Tuberculocide, Virucide, Fungicide, Algaecide, Slimicide and Deodorizer
applications include hospital, ambulance, clinic, medical equipment, nursing home, pharmacy, sick rooms, veterinary office, waiting room, airplanes, buses, trains, boats, health club, laundromat, schools, restaurant, restrooms, office building, public places and home use.
It is suitable for daily disinfection and sterilization of general household facilities, such as floors, countertops, walls, doorknobs, light switches and stair railings, toilets, changing rooms and all other high contact areas. It can also be used on soft surfaces such as couches, backpacks and coats.


- Non toxic.
- Kills 99.999% fungi, viruses and bacteria.
- Disinfects hundreds of surfaces in your home.
- Long lasting deodorization, providing lasting fresh air.
- Safe around children and pets.
- For general broad spectrum, homes, schools, hotels, restaurants, etc.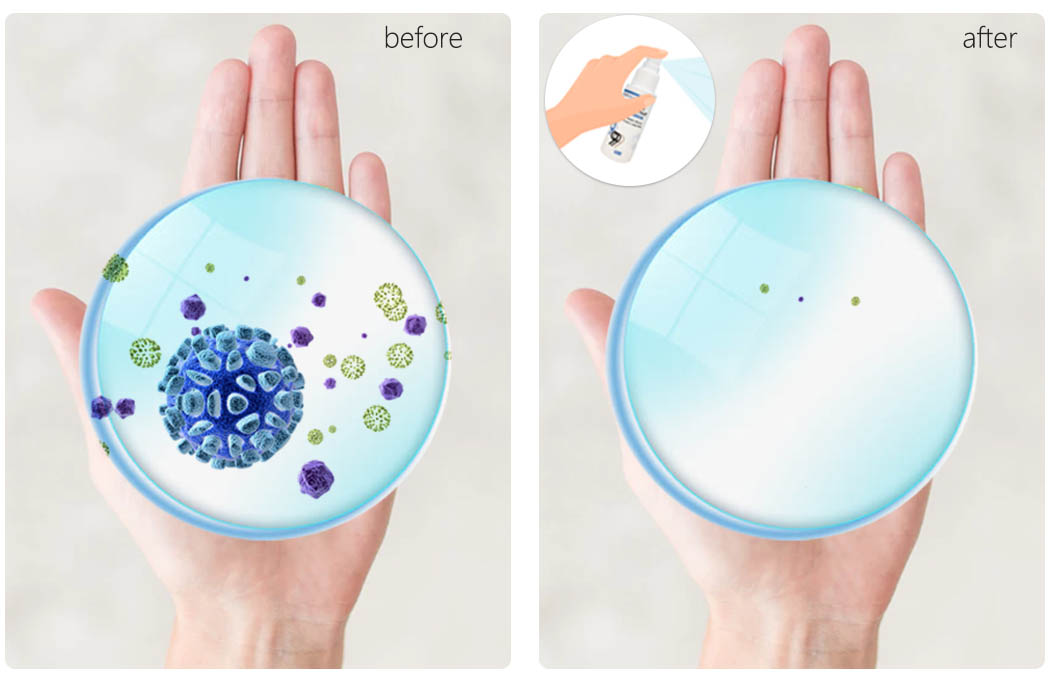 FAQ:
Q: What are the advantages of nano silver disinfectant compared with alcohol disinfectant?
A: Nano silver disinfectant is odorless, non-toxic and safe. It can be disinfected and sterilized for a long time, and can be carried free of consignment.
Q: How about the disinfection and antibacterial ability of nano silver?
A: Nano silver has high specific surface area, good dispersibility, can release silver ions continuously and stably, and has strong disinfection and antibacterial ability.
Q: How can nano silver disinfectant kill 99.999% of bacterias and virus?
A: Silver ions can destroy the function and structure of protein and genetic material of virus, make it inactivate or lose the ability to infect cells.Silver ions can also destroy the function and structure of cell wall, cell membrane, protein and genetic material of bacteria, and make them inactivate or die.
Q: Can I take the disinfectant on the plane?
A: Yes! We have travel size of 50ml and 100ml, and it is permitted to take on the plane.You can use it when traveling to avoid bacterias and virus in public spaces.
Q: When can I get quotation for my inquiry?
A: Usually within 24 hours!
Q: Why should I choose your company?
A: We have professional R&D team, design team, sale team and production workers, so the quality and safety can be guaranteed.
Q: How can I get some samples?
A: We are honored to offer you samples. Free sample but courier fee is paid by yourself.
Q: We're not familiar with the international transport, will you handle all the logistic thing?
A: Definitely. Many years experience and long term cooperated forwarder will full support us on it. You can only inform us the delivery date, and then you will receive the goods at office/home. Other concerns leave to us.
Q: What payment terms is acceptable to you?
A: For sample order or small batch, we suggest you to use Western Union, MoneyGram, and T/T. For mass production batch, we suggest you to use T/T.
Q: What's your delivery time?
A: It depends on whether the products you buy has inventory. If we have inventory, generally we can arrange shipment after receipt of payment 2 to 3 days. If not, it will be decided by the time of the factory production.
Q:Why should I choose your company?
A: We have professional R&D team, design team, sale team and production workers, so the quality and safety can be guaranteed.